For over a decade, the International Space Station (ISS) has provided hands-on educational STEM (Science, Technology, Engineering and Mathematics) opportunities that encourage students to transcend passive learning. MIT Zero Robotics, one of the educational programs that runs onboard the ISS, has inspired thousands of students in the US and around the world to actively engage in STEM fields.
Developing nations, such as Bangladesh, have not been able to engage in such projects due to several barriers. Social and economic disparities are worsening as young people are being left behind for lacking the skills needed to enter an increasingly technology-driven workforce. Research shows that students, as individuals and citizens of these nations, benefit tremendously when they earn degrees in STEM fields—They are able not only to obtain gainful employment in these fields directly, but also in adjacent fields that rely on the knowledge and skills in STEM. Highly populated developing countries like Bangladesh represent an emerging opportunity waiting to be developed for the benefit of the nation, and the world.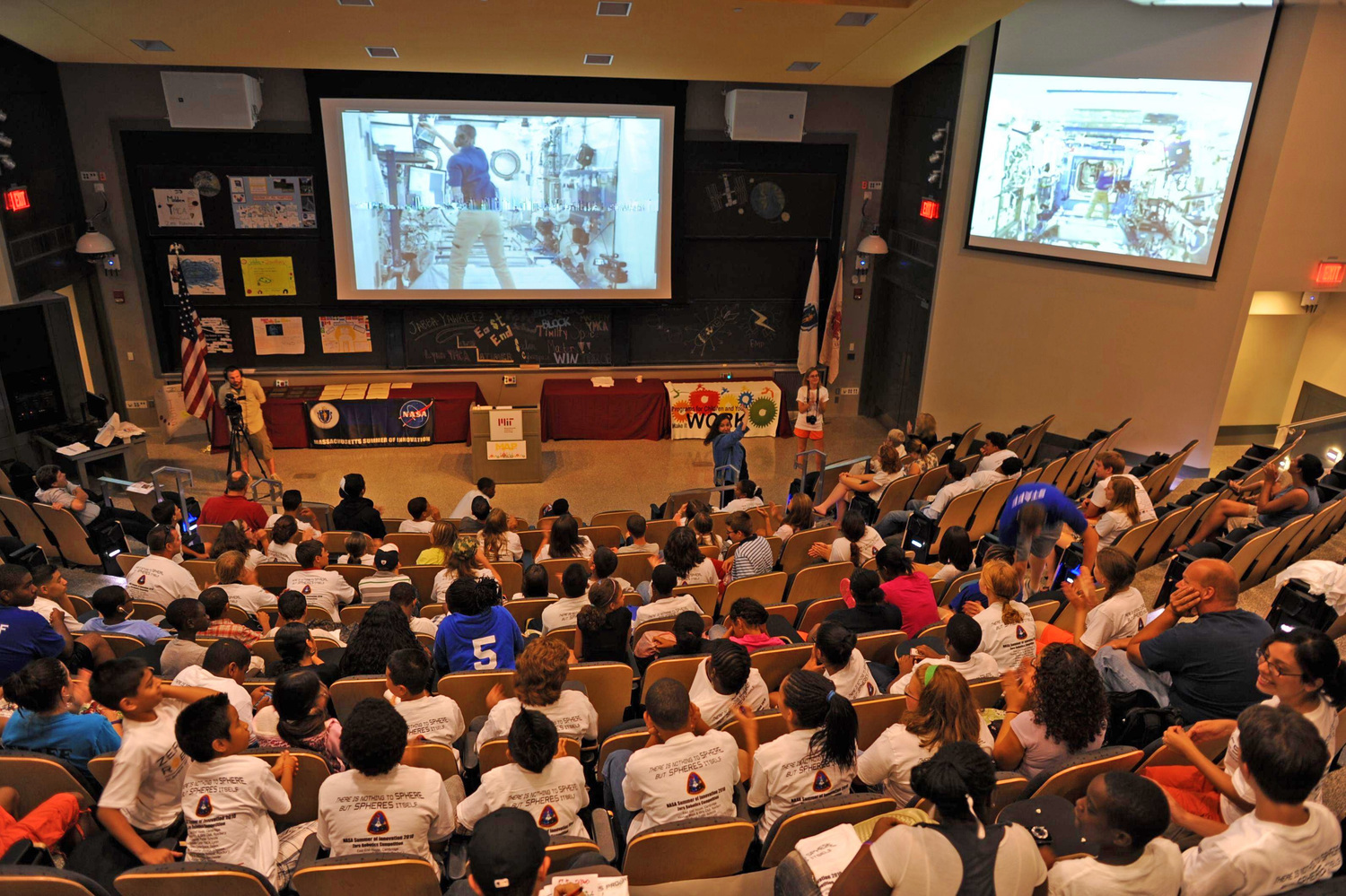 We developed an online-based ISS simulation platform, STEMX-365, to make STEM education more accessible to Bangladesh students. Using NASA'S open-source Astrobee repository, we created a virtual environment in which students will be able to learn the basics of space robotics. Ultimately, the goal is to encourage young people to cultivate hands-on skills by providing them with the opportunity to explore science the way that some of the world's smartest people, such as astronauts and rocket scientists, do. STEMX-365 is in a unique position to provide this access for several reasons. First, this platform is available in Bengali, the national language of Bangladesh. Second, STEMX-365 is provided as a free resource. Third, the virtual learning format is a safe, reliable, and consistent source of immersive education for children, especially during the current pandemic. Fourth, STEMX-365 served as a liaison between the Japan Aerospace Exploration Agency (JAXA) and the Bangladesh National Ministry of Science and Technology (NMST) to deploy the Kibo Robotics Programming Competition (KRPC) in Bangladesh at no cost. KRPC can be considered as an analogous program to MIT Zero Robotics, and has the potential to inspire and motivate thousands of students towards STEM and STEM-adjacent fields to a similar degree. Overall, STEMX-365 is dedicated to help train students to cultivate the technological literacy necessary to meet the demands of the increasingly digital global economy and become the leaders of tomorrow. ISS technology-based education serves as the perfect avenue to meet this goal.
Mizanul H. Chowdhury
Founder
Mizanul Chowdhury is the System Admin and Architect of Zero Robotics project at Space Systems Laboratory of MIT Aero Astro Department. Zero Robotics is an international satellite programming tournament, which runs inside the International Space Station (ISS). Mr. Chowdhury is also involved in Astrobee research and development. Mr. Chowdhury is also chief Architect of MIT RAIDAR distributed music project.
Jasmin A. Chowdhury
Co-Founder
Jasmin Chowdhury is a Quality Assurance Engineer. She worked as a Lead Software Quality Engineer with Top Security clearance at Jericho Systems Corporation. She is specialized in testing Department of Defense (DOD) security software, which includes SAML, XACML, Vault.
Saba J. Chowdhury
Co-Founder
Saba Chowdhury is a Psychiatric Epidemiologist at New York State Psychiatric Institute. She completed her MPH from Columbia University, NY. Prior to her master's degree, Saba worked as a research assistant at Harvard Medical School....